Fife Family History Room
OUR ARCHIVE ROOM IN CUPAR LIBRARY IS OPEN BY APPOINTMENT ONLY
Please email:enquiries@fifefhs.org
The Fife Family History Archives are held at Cupar Library. Cupar Library has always had a very good family and local history room and the addition of our Archives has benefited all those looking for their Fife families.
Cupar has a good transport network with a Railway Station and good bus links.
Opening Hours of Fife Family History Room
Our Family history Room will be staffed by our volunteers at the following times:
Friday 10.15am – 12.15pm and 1.30 – 2.45pm
Saturday 10.15am – 12.15pm and 1.30 – 2.45pm
Please note that the library closes for lunch. Out with these times if you would like an appointment please contact our Secretary: enquiries@fifefhs.org and we will do our best to accommodate you.
[dg ids="1611″]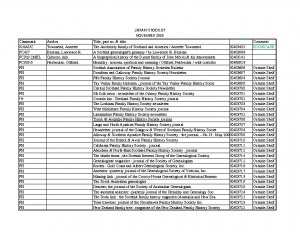 33-35 Crossgate, Cupar, KY15 5AS
Opening Hours of Cupar Library
(Not our Archive opening)
Monday . CLOSED
Tuesday, Wednesday  9.30am-12.30 & 1.30-5pm
Thursday. 9.30am-12.30 & 1.30-6pm
Friday . 9.30am-12.30 & 1.30-5pm
Saturday . 9.30am-12.30 & 1.30-3pm