New skincare formulators often start out blending oils and butters to experience making their first practical cosmetic products such as lip or body balms. Keeping it simple when taking your first steps into natural formulation makes sense. With anhydrous, or waterless formulations, you generally do not need to worry about adding preservatives.
The oat and cranberry balm formulation we offer in this post is one such easy-to-formulate product and also has the benefit of being particularly useful if it is winter where you are.
We know it is not the season for winter skincare for everyone in the Formula Botanica community as we span the globe. But, the Formula Botanica headquarters are in the UK and it most certainly is winter as we post this formulation for a nourishing and protective body balm. The product gives an occlusive and moisturising film to help prevent trans-epidermal water loss (TEWL) and to safeguard the skin from drying environments whatever the season.
This protective body balm also makes a nice homemade skincare gift for family and friends and is a suitable size to keep in your pocket or handbag to use whenever your skin feels dry; on your cheeks, elbows, chapped lips – you name it.
To make it suitable for children as well as sensitive skin, the formulation avoids using essential oils. In addition, we have created a vegan lifestyle-compatible balm using a plant-based alternative to beeswax that is traditionally used to impart hardness to balms.
Our body balm ingredient choices
Oat oil
This is one of the heroes in this formula and has calming, soothing properties. It is a yellowish colour and has a high proportions of oleic, linoleic and palmitic acids. It is rich in phytosterols, antioxidants and carotenoids, and it helps to restore the skin barrier function. It is also an excellent choice for sensitive or itchy, inflamed skin.
Cranberry seed oil
This is a non-greasy oil, rich in nutrients such as carotenes as well as vitamin E compounds (tocopherols and tocotrienols) that are active against free radical damage. It also contains phytosterols and phospholipids which can soothe itchy, scaly and irritated skin conditions. Similar to oat oil, it is considered to have anti-inflammatory properties and to relieve itching and redness.
Shea and cocoa butters
As emollients, butters are staple ingredients in balms as they help soften the skin. Cocoa butter is best suited to dry skin, but not recommended for very oily skin. Shea butter feels drier than cocoa butter. Using just one is possible, but that would leave a choice between sacrificing the amazing chocolate scent of the cocoa butter or omitting the shea butter resulting in a product that feels too greasy.
If you would like to replace either or both of these butters, research variations and trial combinations with options such kokum, shea nilotica, cupuacu, illipe or kpangnan butters.
Plant-based waxes
Waxes give firmness to balms and help them stay solid in warmer temperatures. Candelilla wax has a distinctive occlusive effect. It is a great protective ingredient for balms and nourishing creams. Carnauba is the most stable wax with a melting point between 80-86°C. It is hydrophobic and gives firmness to the product.
Calendula flower macerated in sunflower oil
Calendula flower does not need an introduction. It is a herb whose anti-inflammatory and soothing properties are well documented. Sunflower oil, which is commonly used for macerating herbs, is easily available, inexpensive and can be used on dry and even irritated skin. Some sunflower oils may have a high content of linoleic acid which gives the oil anti-inflammatory properties; check your supplier's documentation to find out. It is also a rich source of lecithin.
Avocado oil
This is one of the most nourishing oils and supports the health of the stratum corneum. Rich in unsaponifiable compounds, it is a very protective, emollient oil.
Vitamin E – tocopherol
This is an antioxidant used in the formula because oat, cranberry and avocado oils are prone to oxidise.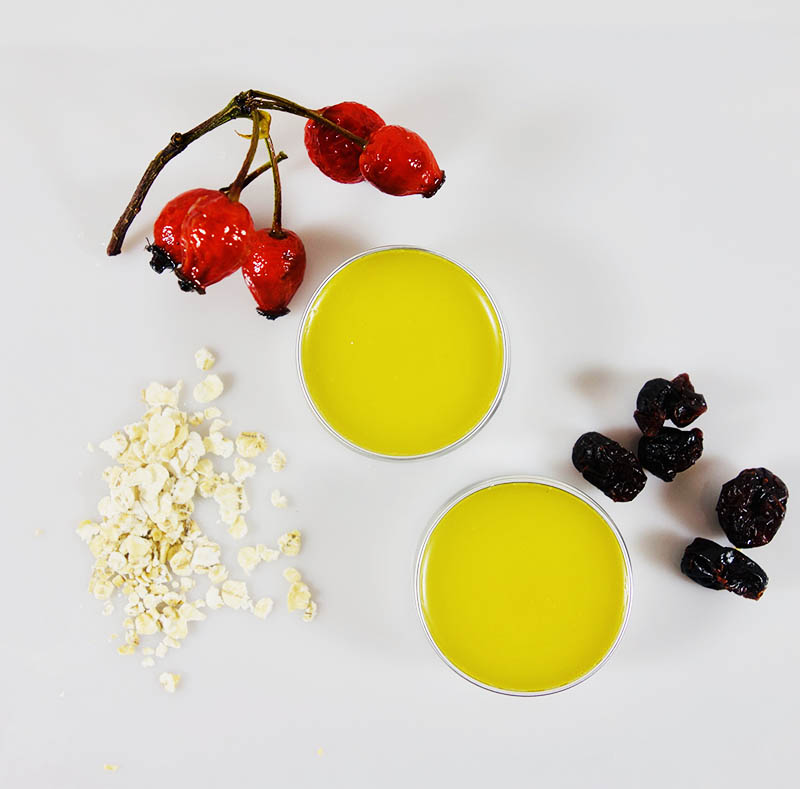 Make this @FormulaBotanica easy oat and cranberry body balm to keep your skin nourished and protected all winter long. Great to gift too. #balm #naturalskincare #homemadeskincare Click To Tweet
Our formulation: Oat and Cranberry Body Balm
Makes: 100 grams
Time taken: 30 minutes
Level: a beginner-level formulation that can be personalised and adapted.
| | | | |
| --- | --- | --- | --- |
| Phase | Ingredients | INCI | Weight (g) |
| A | Unscented shea butter | Butyrospermum Parkii (shea) butter | 20.00 |
| A | Unrefined cocoa butter | Theobroma cacao (cocoa) seed butter | 10.00 |
| A | Candelilla wax | Euphorbia cerifera (candelilla) wax | 6.00 |
| A | Carnauba wax | Copernicia cerifera wax | 3.00 |
| B | Calendula macerate in sunflower oil | Helianthus annuus (sunflower)seed oil and Calendula officinalis flower extract | 20.00 |
| B | Avocado oil | Persea gratissima (avocado) oil | 12.00 |
| B | Peach aromatic extract | Parfum | 0.50 |
| B | Almond cherry aromatic extract | Parfum | 0.50 |
| C | Oat kernel oil | Avena sativa kernel (oat) oil | 17.00 |
| C | Cranberry seed oil | Vaccinium macrocarpon (cranberry) seed oil | 10.00 |
| C | Vitamin E | Tocopherol | 0.5 |
| C | Rosehip CO2 | Rosa canina (rosehip) seed extract | 0.50 |
| | | | Total: 100.00 |
Suggested equipment
Digital scales
Stainless-steel bain-marie or a glass beaker
Water bath or heating bowl
Glass rods
Aluminium tin or tube for packaging
Infrared or other suitable thermometer
Method of Manufacture
Preparation

Sterilise your utensils and working space and wear appropriate lab PPE according GMP.

Weighing

Weigh your ingredients in phase A and put them into the beaker. Place them in a hot bath or bain-marie on a hot plate or another heat source.

Phase B

When the waxes and butters are melted, remove the beaker from the heat source, stir and slowly add the oils in phase B and the aromatic extracts. These are extracts in alcohol and therefore not as heat-sensitive as essential oils. They need some heat to blend in the mixture well.

Cooling phase

When the blend cools below 50°C, add the oat oil and once below 40°C, add the cranberry oil which is the most heat sensitive. Finally, add the tocopherol and rosehip CO2 extract.

Setting and decanting

The body balm will soon start to solidify, so now pour it into your chosen containers – either aluminium tins or tubes.

Final cool-down phase

Leave them to cool down completely before putting on lids.
Body balm formulating tips
You can replace the oils if desired. Use what you have in stock already. Consider the heat sensitivity of some carrier oils.
The aromatic extracts and unrefined cocoa butter used together in our body balm formulation create a scent like that of chocolate pralines. The aromatic extracts' INCI is parfum, but they are food-grade extracts in alcohol and are 100 percent natural origin. Feel free to experiment with scents to suit you. Always check the INCI and if need be, ask your supplier for further information on scents listed as parfum.
This combination and amount of waxes and butters helped achieve the desired balance of texture and hardness. If using fewer waxes, replacing carnauba wax with a plant-based lanolin results in a much softer texture and one more suitable for a squeeze tube. Using a bit more carnauba wax resulted in a harder product that will be more difficult to get out of the tin and apply, especially in cold weather.
It also makes a difference if you use refined vs. cold-pressed oil. Feel free to experiment.
In one of our experiments, we tried adding oat kernel flour, which is a fine powder. This removes a bit of the greasy feel, but if not stirred in well, it can result in the balm having tiny specks and as these are unevenly distributed the final texture of the balm will not seem as smooth.
Suggested Suppliers
Peach aromatic extract – Aromazone (EU)
Cherry almond aromatic extract – Aromazone (EU)
Oat Oil – Aromantic (UK), Alexmo Cosmetics (EU) or Manske (EU)
Cranberry seed oil – Soap Kitchen (UK/EU), Elemental (EU) and Lotioncrafter (USA)
FREE FOUNDATION COURSE
How to become an
Organic Skincare Formulator
By providing your details, you agree to receive additional educational & marketing emails from Formula Botanica, which further introduce our curriculum. Your data is never shared or sold. Read our
Privacy Policy
.
FREE TRAINING
How to become an
Organic Skincare Entrepreneur
Join over 100,000 other Formulators
By providing your details, you agree to receive additional educational & marketing emails from Formula Botanica, which further introduce our curriculum. Your data is never shared or sold. Read our
Privacy Policy
.
FREE TRAINING
How to become an
Organic Skincare Entrepreneur
Join over 100,000 other Formulators
By providing your details, you agree to receive additional educational & marketing emails from Formula Botanica, which further introduce our curriculum. Your data is never shared or sold. Read our
Privacy Policy
.
Leave us a comment
comments