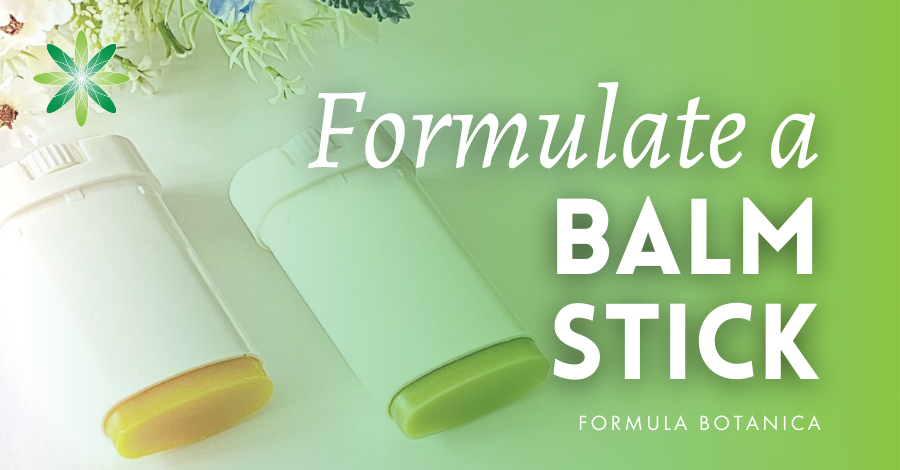 Have you ever wished that you could create a balm stick to apply your natural balm formulation evenly? Or have you wanted to create a portable balm to take with you?
We've created a body balm stick formulation, for you to create the perfect portable natural skincare product. Balms are rich ointments designed not only to provide nourishment but also to create a thin, protective layer on the skin. They can be used all over the body, including the face and are perfect for moisturizing dry areas of skin.
In this formulation, we provide an interesting twist on a classic balm by making it in a convenient stick format, easy to apply and perfectly portable too. Balms are anhydrous (water free) products which can be formulated with a variety of different botanical butters, oils, waxes and extracts. This balm stick is designed for the body, and works wonderfully on dry areas such as elbows, knees or even heels. At the moment many of us are taking extra care to wash our hands many times a day which can take its toll on the skin, so this formula is also very helpful for replenishing moisture and providing a barrier in between washes.
We think balms are very versatile products to formulate because they can be very simple, containing only a few ingredients or they can be more complex and include oil soluble active ingredients such as bisabolol or CO2 extracts. We encourage you to experiment and have fun with your balms!
Read more:
Formulation tips: Making a Moisturizing Body Balm Stick
When making this type of formulation, the most important factor to consider is the melting point. We add waxes because they help keep the product firm in its container but it will still need to have a good glide. A good moisturizing balm stick needs to be firm enough so it doesn't melt in the container, but at the same time it should melt upon contact with the skin. A body balm stick should feel moisturizing and not overly greasy.
Key Ingredients for our Moisturizing Body Balm:
Waxes
Many moisturizing balm recipes use beeswax in the formula. In this formulation we used berry wax. It is a soft wax with a light colour. It has a relatively low melting point of around 50 degrees Celsius and it has a high ester content. Using berry wax instead of beeswax enables you to make the formula completely vegan.
Read more: 6 Vegan Waxes for Organic Cosmetic Formulations
Butters
Since we are working with a solid formulation, we rely on cocoa butter to create the body balm stick's consistency. It is a fantastic ingredient in any skincare product and it is a hard butter which will help us keep the product in a solid form.
Oils
We wanted to keep this formulation relatively simple to show you that you don't need lots of expensive ingredients to make a good product, so we chose to work with sweet almond oil. This oil is often overlooked but in reality it is a good ingredient to add to moisturizer formulations.
Colour
You know by now just how much we love colourful skincare. It is fascinating how much a product can change just by adding or replacing one ingredient. To create the green body balm stick, we used green tea wax and for the orange body balm stick, we removed the green tea wax and used carrot macerate.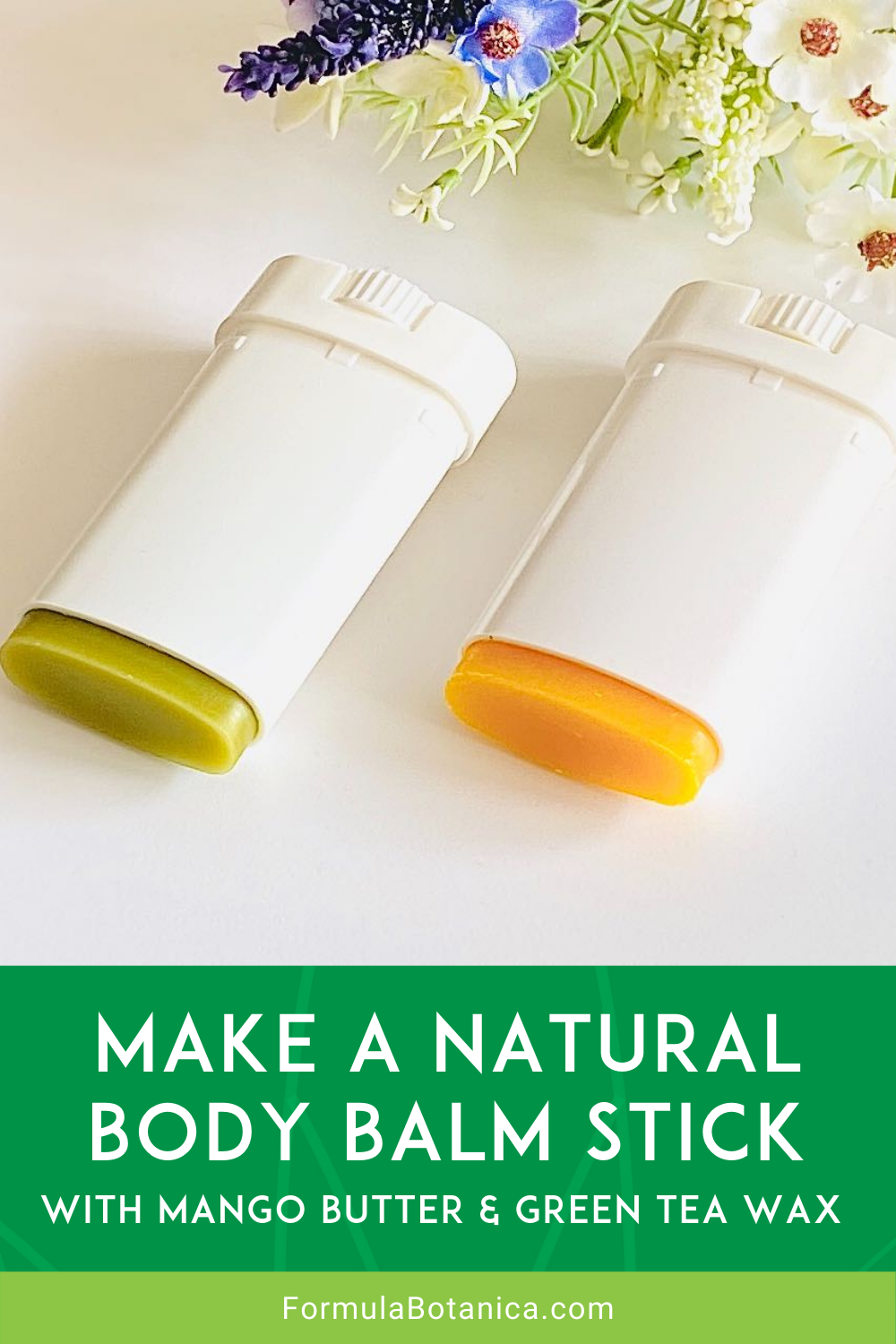 Formulate a moisturising green tea and cocoa body balm stick #DIYbeauty #FormulaBotanica #homemadeskincare
Click To Tweet
Formula: Green Tea and Cocoa Moisturizing Body Balm Stick
| | | |
| --- | --- | --- |
| Phase | Ingredient | % |
| A | Cocoa Butter (unrefined) | 45 |
| A | Berry Wax | 15 |
| A | Mango Butter | 10 |
| A | Green Tea Wax | 0.30 |
| B | Sweet Almond oil | 27.60 |
| C | Tocopherol (Vitamin E) | 0.70 |
| C | Bergamot essential oil | 0.85 |
| C | Lavender essential oil | 0.40 |
| C | Patchouli essential oil | 0.15 |
Method
Melt your solid ingredients

In a water bath, melt all Phase A ingredients until they are fully molten.

Add the oils

When the ingredients in Phase A are fully melted add Sweet Almond oil (Phase B) and stir well.

Add your essential oils and Vitamin E

Remove the beaker from the water bath, stir often and as the mixture cools slightly add the Phase C ingredients which are the Vitamin E (antioxidant) and essential oils.

Add to the stick packaging

Pour the blend carefully in to the stick containers and place in the fridge to set for a few hours as a minimum, preferably overnight.

Label the container

Remove the balm stick from the fridge and allow to return to room temperature before use. Add a label to the container and it is ready to use!
Formulation tips
You can experiment with other waxes in this balm stick, but check the melting point of each wax you introduce. Carnauba wax, for example is a harder wax so you will need to adjust the amounts.
Add more cocoa butter or increase the wax slightly if you live in a hot climate. Don't overdo it, as too much wax will make the product drag on the skin.
Use colourful oils to make the product more fun.
Make it child friendly by removing the essential oils. You could use some aromatic carrier oils instead. For example, plum kernel oil with its marzipan-like scent would work very well with the chocolate aroma from the cocoa butter.
Why not make a smaller version without the essential oils and use it as a nourishing lip balm?
Suppliers
Berry Wax UK/EU – BayHouse Ingredients
Berry Wax UK/EU – Naturally Balmy
Green Tea Wax UK/EU – The Soap Kitchen
Cocoa Butter UK (Ships internationally) – Naissance
Mango Butter UK (Ships internationally) – Naissance
---
Would you like to experience our award-winning online formulation courses? We have enrolled thousands of students around the world who are passionate about organic beauty. To join them, try our exclusive free training today.
FREE TRAINING
How to become an
Organic Skincare Formulator
FREE TRAINING
How to become an
Organic Skincare Entrepreneur
Join over 100,000 other Formulators
By providing your details, you agree to receive additional educational & marketing emails from Formula Botanica, which further introduce our curriculum. Your data is never shared or sold. Read our
Privacy Policy
.
FREE TRAINING
How to become an
Organic Skincare Entrepreneur
Join over 100,000 other Formulators
By providing your details, you agree to receive additional educational & marketing emails from Formula Botanica, which further introduce our curriculum. Your data is never shared or sold. Read our
Privacy Policy
.
Body Balm Stick FAQ
What is a moisturizing balm?
Balms are anhydrous (water free) formulas that contain a mixture of emollient and occlusive ingredients. The purpose of the ingredients is to soften dry skin and add a protective layer to protect from external aggressions.
What is body balm used for?
A body balm is used to nourish and soften areas of dry skin. It works particularly well for areas such as elbows, heels and knees.
How do you use moisturizing balm?
Simply apply a small amount to any areas that need extra nourishment. You can apply slightly more product overnight for example.
Can I use a balm on the face?
Yes, balms can be suitable for facial use when tackling very dry skin. If using a balm on the face and using essential oils in the formula, you need to be aware that dermal limits for essential oils will vary for face and body products that are left on the skin.
Can I substitute any of the ingredients in this formula?
Of course. In fact we would encourage you to experiment with different ingredients, keeping safety and ingredient function in mind when doing so. Unfortunately we cannot give technical support in our blog posts and comment on individual substitutions, but students can access support in our tutor forums.
Why is the formula in percentages and not grams?
We teach our students to create a formula in percentages so that the amount they make can easily be scaled up and down. The formula can simply be converted in to grams, the amounts will vary depending on how much of the body balm stick you would like to create.
Does this body balm stick need a preservative?
As a balm doesn't contain any water, it does not generally require a broad spectrum preservative. However it will benefit from an antioxidant to slow down the degradation of the oils included. In this case, we have used Vitamin E as our antioxidant.
How many drops of essential oil should I use?
We don't recommend using drops as a measurement for essential oils as this isn't accurate enough to ensure safety. We recommend you purchase precision jewellery scales for formulation, as these can measure small amounts of ingredients such as essential oils.
Leave us a comment
comments
Timi was a key member of the Formula Botanica team from 2015 to 2020; first as our Education Manager and then as Head of Formulation & Research. You can find out more about the Formula Botanica team here.